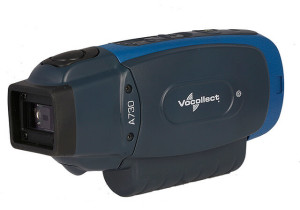 Voice terminals series A700 is the latest device by Honeywell, with upgraded command recognition tool, BlueStreak, based on Windows CE7 platform, that enable work up to 24 hours in a wide range of temperatures. Each of A700 series model is a unique tool dedicated for a specific range of tasks, thanks to which everyone can choose tools best suited for his needs. A700 series devices may be integrated with various IT environment, they provide advance battery management solutions and support the user in better device tracking.
Talkman A730 mobile device bridges the long-standing gap between voice and scanning. For workers that occasionally require a scanner for tasks such as order induction or serial and lot number capture, it offers an elegant and ergonomic solution.
Talkman A730 contains an integrated short-range scanner, which enables workers to use both voice direction and scanning to fully optimise processes in an ergonomic, wearable form factor that eliminates the need to hand carry a bulky device. It is small and easy to unholster for occasional scanning. Your workers can even scan hands-free by using a voice command to activate the scanner when moving boxes with labels past the scan target with the A730 positioned on the worker's belt.
Designed to deliver consistent performance and ease of use in the most challenging environments, the imager is equipped with a red scanning line and highly visible pointer to facilitate successful scans in darkness or full sunlight. Its corner framers make image capture and multi-code reading intuitive and comfortable. Transitioning to the A730 is easy; the device is simple for employees to learn and use.